Smart Terrace AIO 10L/35/70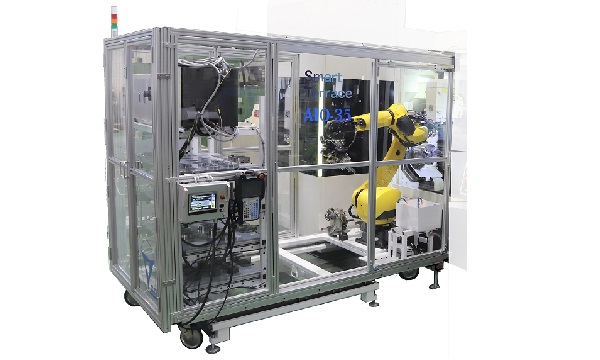 Systemized automatic exchange of workpiece and chuck jaws released as a package
・Retrofit installation
No need to change machine software (ladder)
No robot interface required
Workpiece loading/unloading is possible during automatic operation.
・Mixing of different types of workpieces is possible from a single workpiece.
Compatible machine makers: FANUC, OSP, MAZATROL, DMG Mori, Mitsubishi, Brother
Combination of 204 options in 69 types is available.
We propose chucking systems that match the customer's workpieces.
Matsumoto Machine is the only company that can handle everything from design to installation.
Method
| Type. | AIO10L | AIO35 | AIO70 |
| --- | --- | --- | --- |
| robot | M10iD/10L | M20iD/35 | M-710iC/70 |
| No hand change of payload (single) | 5.6 kg | 22kg | 55kg |
| No hand change of payload (double) | 2.8 kg x 2 | 11kg x 2 | 25kg x 2 |
| With hand exchange of payload (single) | 3.6kg | 20kg | 50kg |
| With hand exchange of payload (double) | 1.8 x 2kg | 10kg x 2 | 20kg x 2 |
| Body size | W2,550 D1,460 H2,200 | W2,550 D1,460 H2,200 | W2,550 D1,460 H2,200 |
| Slide amount | 600mm | 600mm | 600mm |
| Stock area 2 tiers | 1.2 m² | 1.2 m² | 1.2 m² |
| Stock area 4 tiers | 2.4m² | 2.4m² | 2.4m² |
| Stock area 8 tiers | 4.8m² | 4.8m² | 4.8m² |